–1–

Founder and Chief Operations Officer Wendy Lewis and Jeunesse scored four gold in the highly regarded Women World Awards 2017 competition. Jeunesse was recognized as Company of the Year for Company Growth, while Lewis claimed gold in three categories: Female Entrepreneur of the Year, Woman of the Year – Lifetime Achievement, and Champion of the Year.
"I am deeply honored to be recognized in the Women World Awards and applaud the competition for recognizing successful women in business around the world. I hope any success I've achieved serves as inspiration to those who aspire to achieve their own success," Lewis said.
As a lifelong entrepreneur, Wendy has been recognized for her ambition and impact throughout her successful career in the direct selling industry, winning countless awards and accolades. In 2009, Wendy founded Jeunesse with her husband, Randy Ray. For the past three years, the Company has ranked among the Inc. 500/5000 fastest-growing private companies in America, and now ranks among the largest direct selling companies in the world.
For Wendy's leadership of Jeunesse from a startup to a billion-dollar company, the Women World Awards distinguished her with high honors. This is an incredible achievement, as the competition recognizes successful women in business across every major industry in Africa, Asia-Pacific, Europe, Latin America, North America and the Middle East. Categories for recognition include leadership, innovation, organizational performance and new products and services. The winners are invited to attend the annual SVUS Red Carpet Awards Ceremony Dinner on Monday, June 26, in San Francisco.
Jeunesse is honored to accept the award for its tremendous growth and is fortunate to have the innovative and notable Wendy Lewis as its Co-Founder and COO. Entrepreneurship in the direct selling industry is a wonderful opportunity, and we hope you, too, will seize the chance to unleash your potential and live your dreams through Jeunesse.
–2–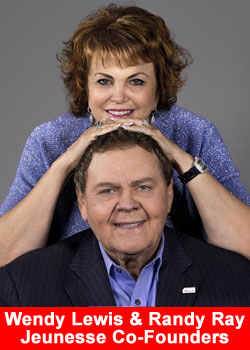 Jeunesse is celebrating its highest annual sales since the company's inception, closing 2014 with record-breaking sales surpassing $400 million—a huge increase over its 2013 total of $256 million.
Continuing a streak of explosive growth in its fifth year since inception, Jeunesse achieved a record $61 million in sales in December, with 68,000 new distributors joining that month and over 6,500 on December 31st alone.
This new peak occurred only two months after its previous best month in October, when the company eclipsed $50 million in sales and welcomed more than 42,000 new distributors.
These record numbers cap a remarkable year of accomplishment for Jeunesse. A total of 367,000 distributors joined Jeunesse during the year, with 32 new Diamond Directors and 9 new Double Directors achieving the rank from 2014 alone.
In April, Jeunesse won six American Business Awards, including Company of the Year, Corporate Social Responsibility Program of the Year, and Best Corporate Sales Video. That same month, Jeunesse won twelve Telly Awards for their innovative, distributor-friendly marketing materials and ranked at #46 on Direct Selling News' Global 100 List—a 32-spot rise from the previous year's rankings. June 2014 heralded the company's inclusion in Direct Selling News' 100 Million Dollar Growth Club for achieving a sales increase of $100 million or more in less than one year.
In August, Jeunesse ranked at #258 on the INC. 500 List, and is currently the #1 fastest-growing Direct Selling Association Company on the list. In September, Jeunesse won a Gold Stevie Award at the 11th Annual American Business Awards for overall achievements in developing its Jcloud™ technology. Jeunesse also won 4 other awards in the Cloud Service, Infrastructure, Platform, and Storage Categories. In November, Jeunesse Founder Wendy Lewis was named Woman of the Year, and was bestowed an astonishing six awards for her philanthropic efforts, business savvy, and dedication at the Stevie Awards for Women in Business.

With a global platform established worldwide and a network of more than 500,000 distributors in 100+ countries, Jeunesse has paid out more than $400 million in commissions since its inception in 2009. "This past year was another year of tremendous growth for Jeunesse," remarked Scott Lewis, Chief Visionary Officer.
"We had set out the year with some very aggressive targets, all of which we were able to hit and surpass. With the monumental growth we've had in just five years, it is beyond question that Jeunesse is delivering results with cutting-edge products, a truly rewarding compensation plan, and abundant opportunities for our distributors worldwide. Whereas the past year was a huge success, we truly feel our journey has only just begun, as everyone is fully focused on making 2015 another record year for Jeunesse.
"We place tremendous pride in our distributors, who are well established all over the globe. Our distributors mean everything to us because they're family. We give our sincerest gratitude and respect, and we thank them for passionately making Jeunesse such an enormous part of their lives. I can't wait to see what 2015 will bring us—I know it's going to be our best year yet."
–3–

Bo Short, Industry Icon and Top-Ranked Leader, Joins Jeunesse
Jeunesse is honored to announce the addition of Bo Short to its global field leadership. As the company experiences continued exponential growth, Bo will use his decades of expertise in MLM to continue to stimulate significant growth around the world, while also designing a groundbreaking personal development initiative aimed at strengthening field leadership in the United States, while working closely with leading directors to further enhance Jeunesse culture."Very seldom in the network marketing industry does a company come along with this type of sustained growth, backed by category-creating products and a world-class compensation plan," explains Bo. " Jeunesse is such a company. It is a builder's dream to mentor a team in that (type of) environment. I know the success that awaits distributors that come here and I am honored to be a part of that process."
As a legendary figure in the network marketing industry, Bo has spent the past 25 years building successful MLM teams in 25 different countries. He most recently served as the President of Global Sales & Field Development for a large, publicly traded network-marketing company.
Ranked #31 in Business for Home's "Top 250 Lifetime Earners," Bo was later singled out as "1 of 52 of the Brightest Minds in Network Marketing." He was featured in a New York Times bestselling book about network marketing, appeared on Dateline NBC as an industry expert, and has been featured as a keynote speaker in 24 countries, with a cumulative audience of over 1 million.Bo Short is eager to work with the sales force at Jeunesse. "My team and I look forward to giving our best and highest effort to ensure the success of those people that look to us for leadership," Bo says. "We are humbled to be a part of this global movement."
About Jeunesse
Jeunesse is a leading direct selling company devoted to encouraging healthy living. Company research focuses on adult stem cell science, telomere support, DNA repair, fat loss technology, and nutrigenomics. Products are made in the USA and are exclusively formulated for Jeunesse.
With a multi-lingual customer service, back office support team, global enrollment system, and in-house programming already in place, the company is fully operational in 32 offices around the world. Its distribution channels extend to over 100 countries. Jeunesse and the Jeunesse logo are registered trademarks of Jeunesse Global, LLC in the U.S. and/or other countries.